On Saturday, the Metro Edmonton High School Athletics Senior Football championship games were held at Clarke Stadium in Edmonton. Here's how it all played out.
Carr Conference
The Harry Ainlay Titans dominance in Division I continues with a Carr championship win, 43-7, over the Paul Kane Blues of St. Albert.
The Titans, of the Royal Gardens area of Edmonton, also gave a shout out to wide receiver Jacob St. Hilaire, who was named Carr conference league most valuable player.
Miles Conference
In a showdown of neighbouring schools, the Bellerose Bulldogs of St. Albert took the Division II Miles conference crown with a 39-6 win over the Sturgeon Spirits of nearby Namao, in Sturgeon County. The Bulldogs had played in Division I Carr until a tough 2022 saw them in Division II this season. Meanwhile, the Spirits moved up from Division III Gilfillan following an undefeated 2022.
"Unfortunately for us, Bellerose took command of the game early. A 73 yard opening kick return by Darius Crandell put the Bulldogs in scoring position and they took control of the game," Spirits head coach Chad Hill wrote by email.
Hill wrote that there was a "bright spot for the Spirits," and that was injured quarterback and kicker, Austin Panchyshyn, out injured since breaking his leg in August, "suited up and got on the field for one play to end his high school football career." 
"The day did not go as we had hoped, but that is football and that's life. I am proud of the way our team battled and overcame a pile of adversity this season.
"Moving up divisions is not easy at the best of times. Most games, we dressed only eight or nine grade twelve players. So we were young. The future remains bright for our program despite the setback on Saturday," Hill wrote.
Congratulations to Bellerose for winning the Miles Final, 39-6, beating Sturgeon.
🏈🏈#football #footballalberta #metrodivision #milesfinal #highschoolfootball #highschoolsports pic.twitter.com/1XHF9lXsU0

— Football Alberta (@FootballAlberta) November 5, 2023
Gilfillan Conference
The M.E. LaZerte Voyageurs, from the Kilkenny area of Edmonton, take the Division III Gilfillan championship with a 28-11 win over the Ardrossan Bisons, of Ardrossan, in Strathcona County.
M. E. LaZerte beats Ardrossan, 28-11, to win the Metro Division III championship. Congratulations!
🏈🏈#football #footballalberta #metrodivision #highschoolfootball #highschoolsports #gilfillanfinal pic.twitter.com/9iP7JjALV6

— Football Alberta (@FootballAlberta) November 4, 2023
Bright Conference
The McNally Tigers, of the Forest Heights neighbourhood in Edmonton, win 22-17 over the St. Joseph Saints, of North-Central Edmonton, to claim the Division IV Bright championship.
McNally beats St. Joseph, 22-17, to be the Metro Division IV Champions. Congratulations!
🏈🏈#football #footballalberta #mcnally #highschoolfootball #metroathletics #highschoolsports pic.twitter.com/hPYOwOH53A

— Football Alberta (@FootballAlberta) November 4, 2023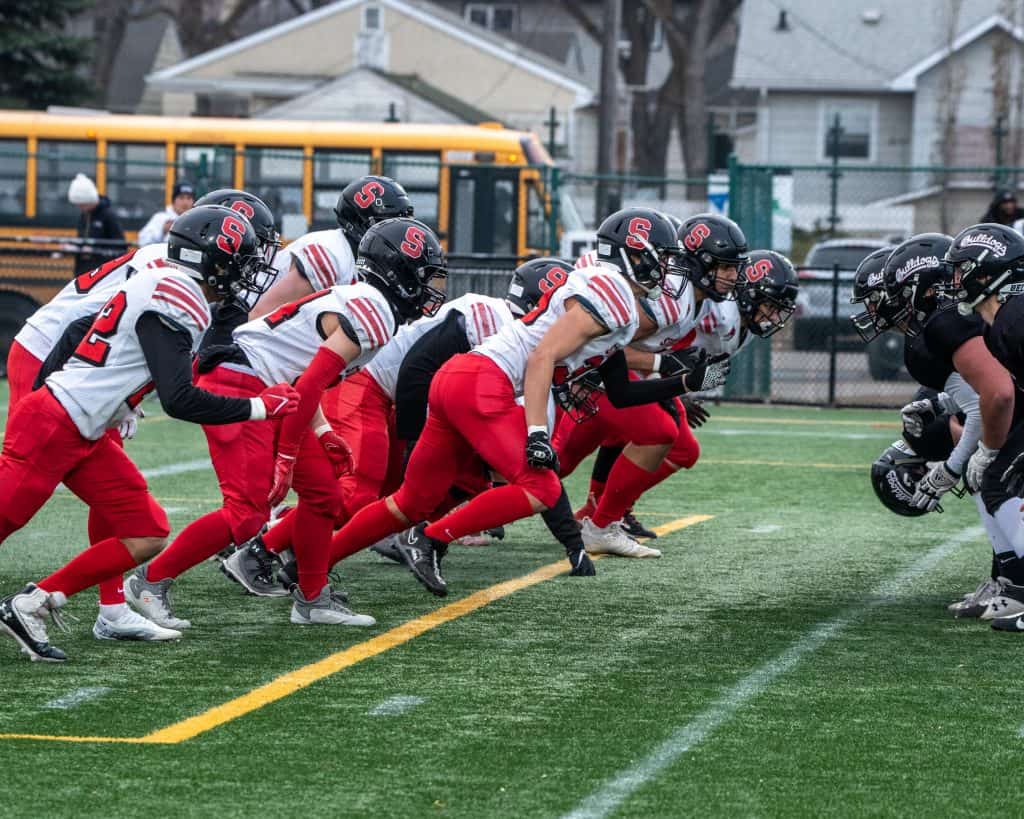 Below and featured image: provided by Sturgeon Spirits head coach Chad Hill, "Sturgeon receiver, Spencer Demerais tries to escape Bulldog tackler, Ty Kohut" (Glen Freeman | Amused Images)