A pair of Sturgeon County archers are reflecting on their summer trip to Ireland to compete in the 2023 World Archery Youth Championship.
Adam Berge and Jordyn Polowaniuk have been training together for quite a few years and made the trip across the pond back in July with the rest of Team Canada.
"It was pretty cool, we had to head down to Calgary, stayed the night, went to the airport, and it was just a really exciting experience," said Berge. "The flight was long, but it was definitely worth it to get there."
"We flew into Dublin, and it was a very neat experience, very rainy and very windy."
Going on a such a big trip is sure to spur up nerves. Polowaniuk says that she saw a sports psychologist to prepare for the journey.
"I think that helped set up my expectation properly for myself and like what to expect in my moments of 'oh no what do I do'," said Polowaniuk. "I bonded with my teammates. I find that making friendships along the way and getting to know people who are doing the same thing as I am helps me calm down a bit."
Both Polowaniuk and Berge have an extensive history of training together. Polowaniuk says having a familiar face by her side helped to quell her nerves.
"I think that was a big comforter for me," she said. "I honestly look up to him, so it was cool being there next to my idol and being like 'oh, I am here'."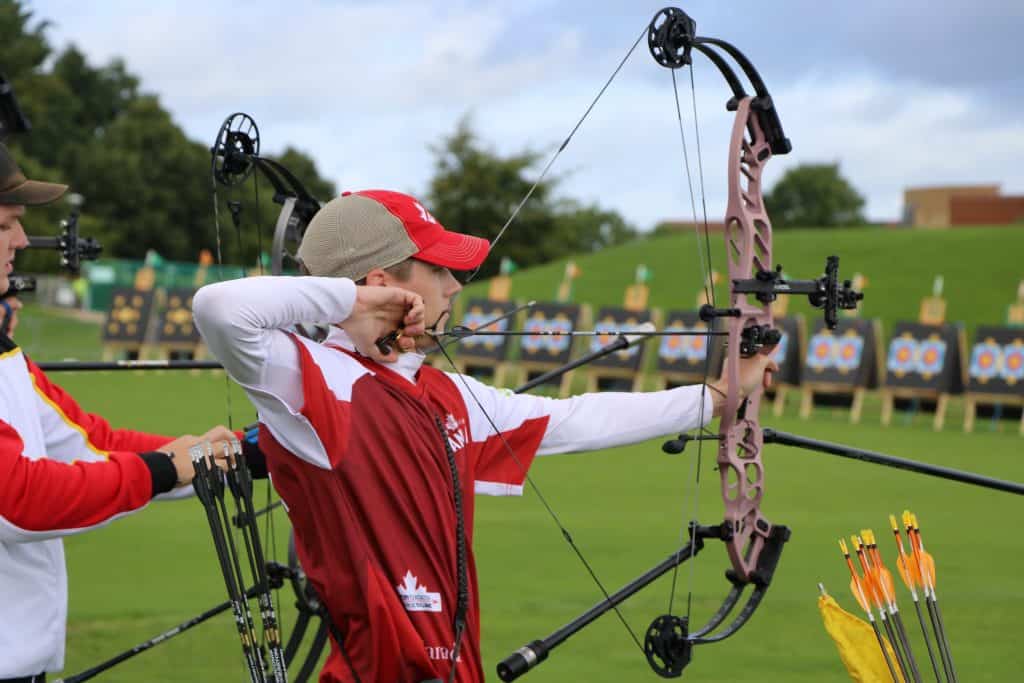 Conditions getting into Ireland, like Adam said, were not great. The team faced rainy and windy conditions and, as they made their way to the University of Limerick, that poor weather continued into the event.
"The practice day along with the event was very windy so I wasn't as prepared as I wanted to be for that," said Berge. "There were 50 km/h crosswinds so it wasn't an ideal way to shoot."
The event had over 500 archers from across the world compete. This was the first time that both Berge and Polowaniuk had ever shot on the international stage.
Berge was able to finish 34th in his category while Polowaniuk finished in 29th in hers.
Polowaniuk says her biggest thing she'll remember from the experience was the time she spent with her teammates.
"Since we all slept in dorms with each other I think we all got the opportunity to bond with each other," said Polowaniuk. "Even in the common room at night, we played card games, and we'd all meet up."
For Berge, being in a new country and taking in a different culture has left an impact on him.
"Seeing the city of Limerick, it was very culturally different," said Berge. "We went to a castle which was pretty cool."
"In terms of the actual competition, it was definitely looking at the equipment and setup and how some of the more famous youth archers handled it."
There is no doubt that Sturgeon County is home to a pair of the most talented archers on the planet.