The sound and media booth at Taurus Field has been named after their long-time game announcer Graham Overn.
Overn has been the game announcer at Taurus Field since the field first opened up back in 2018.
"A long time ago in high school, our senior boys' basketball team played at lunch. Anytime they had a game, I would gather up all of my friends, pack the gym, and lead in obnoxious cheers against the other team," said Overn on his start in announcing. "One day the coach came up to me and said it had to stop. He asked if I would mind announcing the games, and I said sure."
Between his high school announcing and working at Taurus Field, Overn served as a Grade 5 teacher at James Mowat Elementary.
Although the booth was named after Overn, he made sure to mention the others who help him with game announcing.
"There are two other guys in the booth that made the production an event to go to at the stadium. One of them was Brent Kellington, he did the music and spotted for me, and the other guy is John Lochtie, whose boys played football and he was a coach for the high school and bantam teams, and he did a lot of spotting for me as well," added Overn. "My favourite part was being in the booth with those two, announcing the game, and making it an event. We've been to lots of other fields where the announcers were less than dynamic, so we decided that we needed to make this a fun place to be."
"So, that's my favourite part – making it fun for everyone."
On October 19, there was a surprise presentation at Taurus Field where they named the media booth the Graham Overn Media Centre. Overn said he never expected this kind of recognition.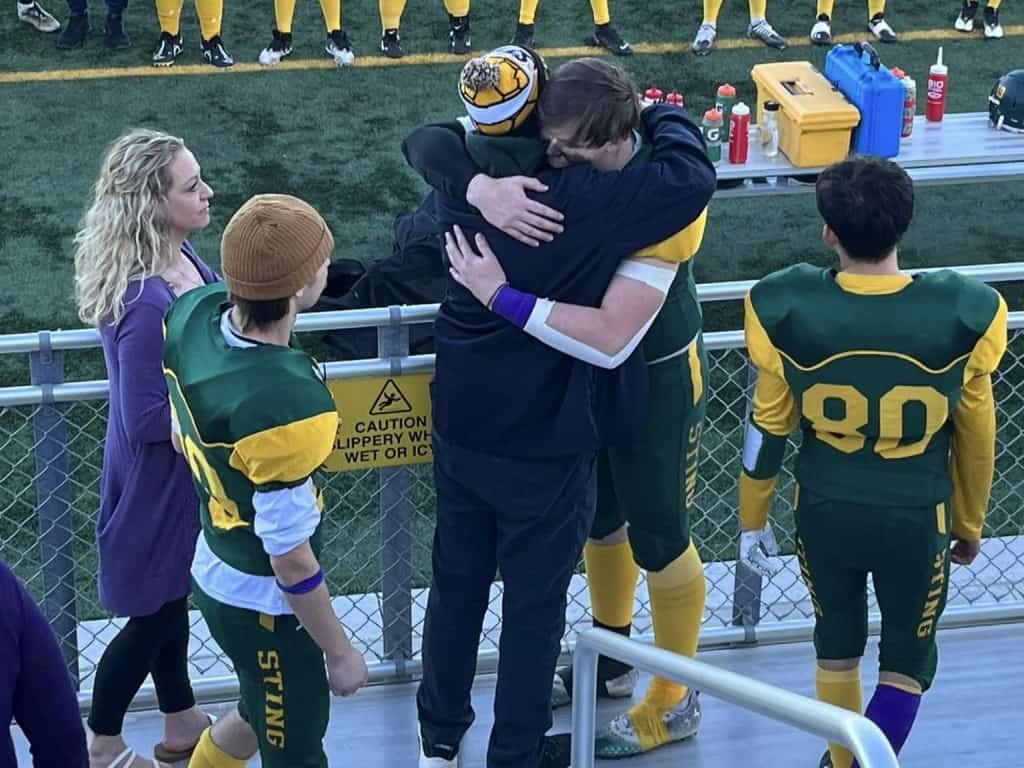 "I had no idea until I walked around the corner and saw all these familiar faces. It was really emotional and humbling."
Overn thanked the City of Fort Saskatchewan, Fort Sask Minor Football, and his wife Dawn for putting the whole event together.
"I guess I did a good job."
Overn has announced for over 100 games at Taurus Field through snow, rain, the heat, and even a battle with cancer.
The October 19 game had players and fans in the stands wearing purple arm bands to honour Overn's ongoing battle, with proceeds from the games 50/50 being donated to the Cross Cancer Institute.